The video streaming platform Zee 5 is back with a Pankaj Tripathi starrer titled 'Kaagaz', set to premiere on 7th January 2021. Beyond the cruising metro and blazing neon lights of cosmopolitan, 'Kaagaz' will storm back to the 'other' side of India and bring a real story to the forefront. A satirical comedy based in a small village in UP, the story is about a man who was declared dead on official papers and will wheel around his journey to prove himself alive. It will mock a sarcastic commentary on the flawed system of land resources in India and the struggle of a common man that comes tailing with it. A humorous take with Pankaj Tripathi as Bharat Lal with Monal Gajjar, Mita Vashisht, Amar Upadhyay & Satish Kaushik in pivotal roles.

Check out the poster here: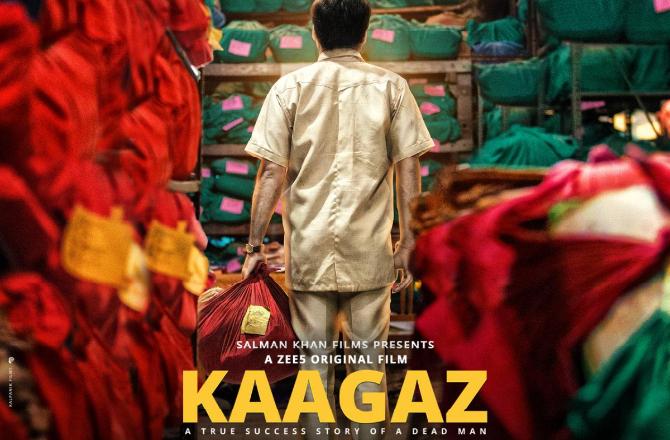 Kaagaz pe Lal Bihari ki kahaani hai badi atyachari. A true story, #Kaagaz premieres 7th January 2021. In select theatres, in UP. #ProofHainKya@tripathiipankaj @satishkaushik2 @gajjarmonal @theamarupadhay @Nishantkaushikk @ZeeStudios_ @shashankhandelwal02 @anksumads @ZEE5Premium pic.twitter.com/zw6EyhfOuK

— Salman Khan Films (@SKFilmsOfficial) December 15, 2020
Talking about the film, Pankaj Tripathi shares, "'Kaagaz' is a brilliantly written true story. It is a quirky, black comedy & depicts the common man's humorous journey on identity crisis. My character will be quite different from some of my recent ventures and I am excited to be a part of such an inspiring story. This story needs to be heard and I am definite that ZEE5 will give it the reach that it deserves."
Director and actor Satish Kaushik shares, "I remember reading about the story of Lal Bihari Mritak in the news for the first time, I was intrigued and inspired with his journey, so I did a lot of research on the events that took place in his life Eventually, it felt to me like this story deserved to be told to the world and we could have not asked for a better production partner Salman Khan Films & than ZEE5 to showcase it. Now, it's just a click away for the audiences. Block your date for 7th January 2021."
Producer Nishant Kaushik adds, "I am privileged to debut as a film producer with heavyweights like Salman Khan Films, Satish Kaushik, Pankaj Tripathi and thank ZEE5 for showcasing it."
A spokesperson for Salman Khan Films expresses, "This is our first association with ZEE5 and with their reach, we are certain that 'Kaagaz' will achieve the reach it deserves. We wholeheartedly believe in the story, and the effort and love that Satish Kaushik Sir & his team has put in its making. We are looking forward to the premiere on 7th January 2021 and start the New Year with a bang"
'Kaagaz' is based on the real story of Lal Bihari Mritak with story, concept, and direction By Satish Kaushik. Screenplay by Imtiyaz Hussain, dialogues by Imtiyaz Hussain, Ankur Suman, Shashank Khandelwal and cinematography by Arkodeb Mukherjee. The film is presented by Salman Khan Films with Satish Kaushik Entertainment Production and produced by Salma Khan, Nishant Kaushik, and Vikas Malu.
The ZEE5 Original film will premiere on January 7.