Renowned singer Ali Noor has been accused of sexual harassment by journalist Ayesha Binte Rashid. Ayesha took to Instagram on Friday to share screenshots of a conversation she had with Noor in which she called him out for "predatory behaviour" and "sexual harassment".
The screenshots also see Noor's alleged response to Ayesha in which he admits to being her "gunehgar" and tells her he hates himself. Noor apparently reached out to Rashid from his wife's phone number after being blocked by the journalist on WhatsApp. He also thanked her for the "wake up call", urging her to "forgive herself, first" and then "others around" her.
When reached out for a statement, the singer refused to comment on the matter but insisted that the "complete" version of his conversation should be shared publicly. It is pertinent to mention here that The Express Tribune has not been able to independently verify the authenticity of the conversations shared by both Ayesha and Noor.
Rashid's messages
From the screenshots shared by Ayesha, some of which have been transcribed for context, she can be seen telling Noor that she is only messaging him after long deliberation. She adds, "You emotionally manipulated me and what happened in the back of my car while driving to the airport was sexual harassment. You're a sexual harasser and a predator." She goes on to say that she does not wish to publicly come forward with the accusations because of her respect for Noor's brother Ali Hamza, as well as drummer Kami Paul, who has been associated with the band Noori.
The journalist claims that after Noor threatened to jeopardize her friendship with Paul, she came clean to the drummer about the incident herself and ended her friendship with him because she has "no interest in having people in her life who fraternise with harassers". Referring to Noor as a womaniser, Ayesha continues, "[You have a] God complex who is all talk yet doesn't have the proactiveness to break out of his own toxic patterns."
Noor's 'missing' messages
Noor claims that he sent the following messages in response to Ayesha's initial message, but she has not mentioned them in her post. In these messages, shared in the form of a document, Noor says: "Oh man I am completely devastated. I am hating myself, you are absolutely right and sometimes one needs a mirror to see. I couldn't agree more. I swear as I read this I don't want to live. I am truly your culprit and I am willing to pay any punishment. All I can say is that my life has taken a turn that I never could imagine and your message is truly a sign from God for me to see my truth. And yes, I am paying a very very hefty price for my ego, my God complex… I have never been this miserable and yes you are right my inability to change myself is dawning as true reality."
He allegedly goes on to tell her: "You also know that I am not a sexual predator but clearly this direction of the life of mine could turn me into that and worse and My God I am so scared. Your message is the hardest hit I have ever had in my… I've truly lost my innocence and I will have to read it for the rest of my life and live with it, what have I done? All I can say is, Ayesha, I am truly your gunehgaar. You are definitely one of the most sincere, real and genuine people I know. You know the truth is I had completely blocked this from my mind …which only goes to show how f***** up I am… You're innocence and honesty were the most adorable thing on the trip and man what the fuck did I do. I am taking full responsibility, both publicly and privately. Whatever your decision for punishment is, I will not dare to talk of my good or not so bad intentions here but if you check with your heart you might find some space for my folly, I have to make this right. Tell the whole world to get me arrested, hanged, but please don't hate me."
Noor takes to Instagram
Hours after refusing to comment on the matter, Noor posted a note on his Instagram Stories addressing the accusation made by Ayesha. "Today, I put the teaser and release date of the video and the son but as I was doing that I got a message from newspapers that I have been accused of #MeToo by Ayesha Binte and my screenshots and apologies have been put up, She didn't put all of them and that's sad. I even suggested I should be hanged and executed publicly. She simply wasn't taking me seriously. Anyway, I am so glad she finally put it out."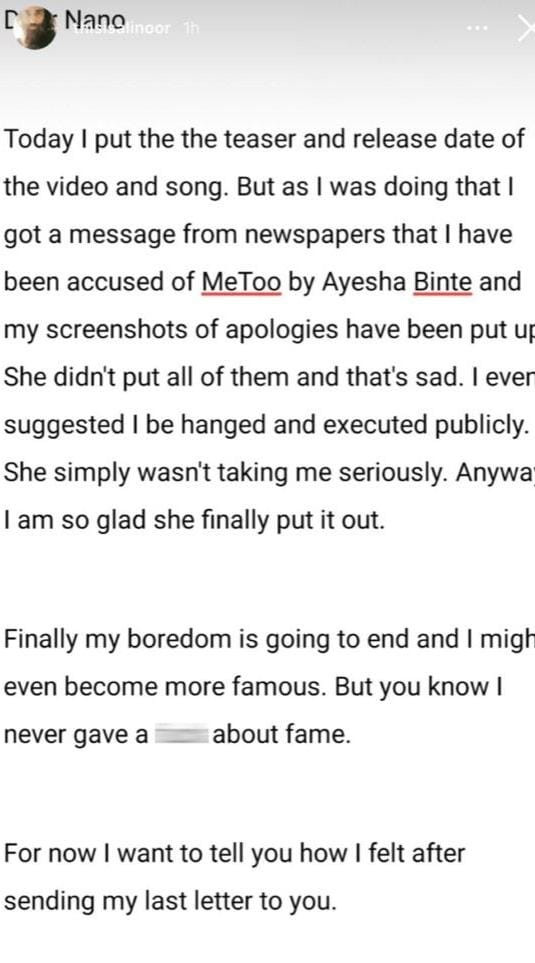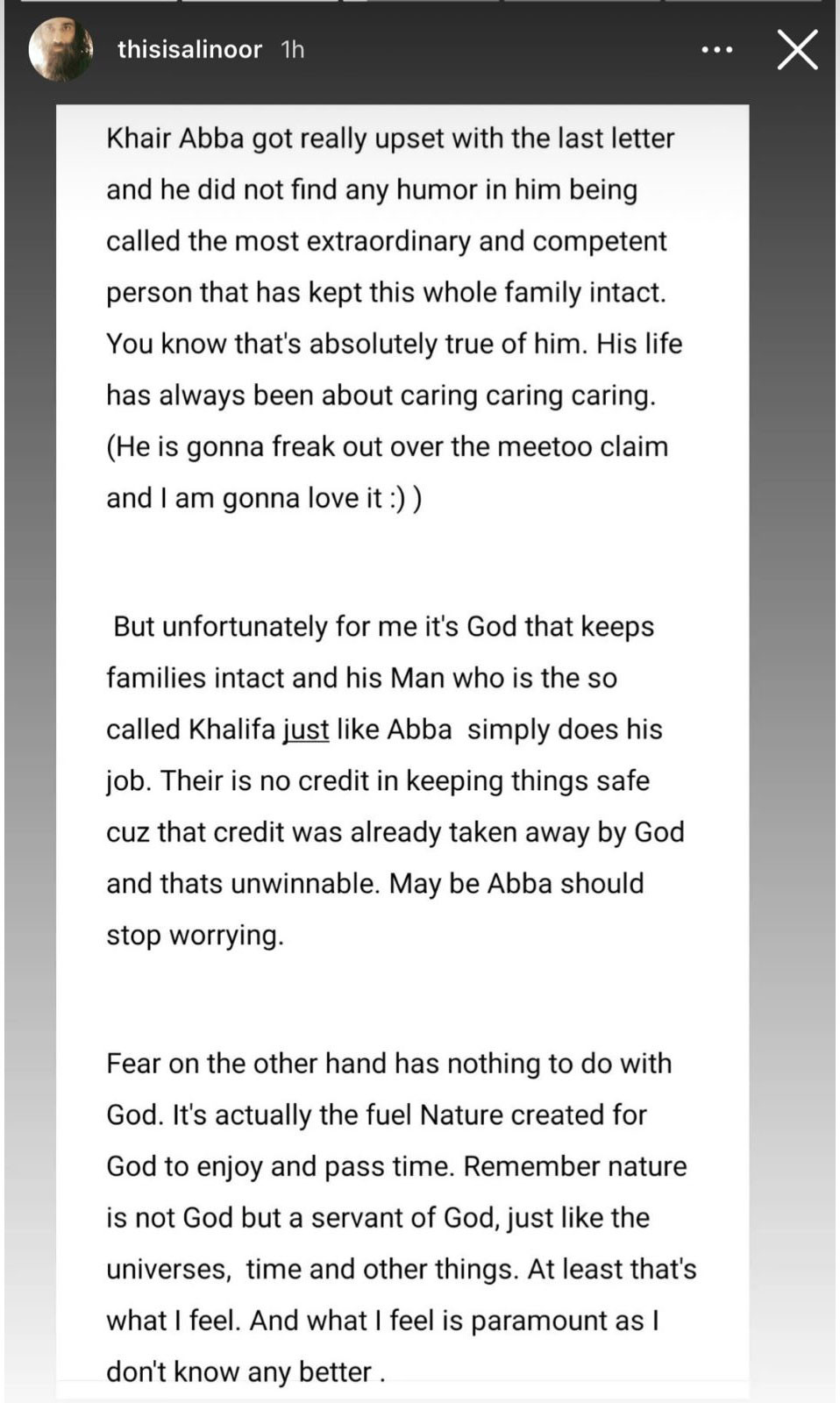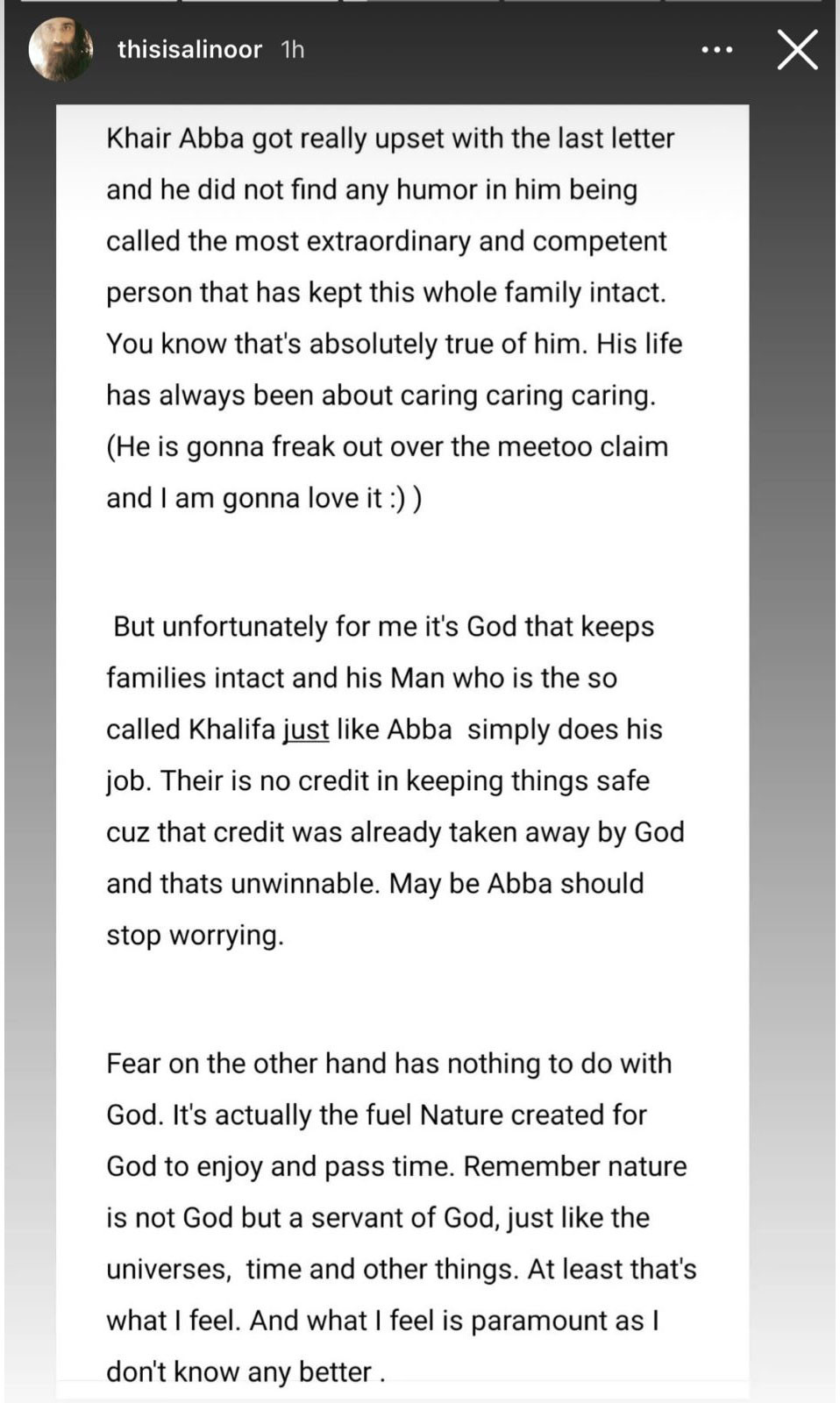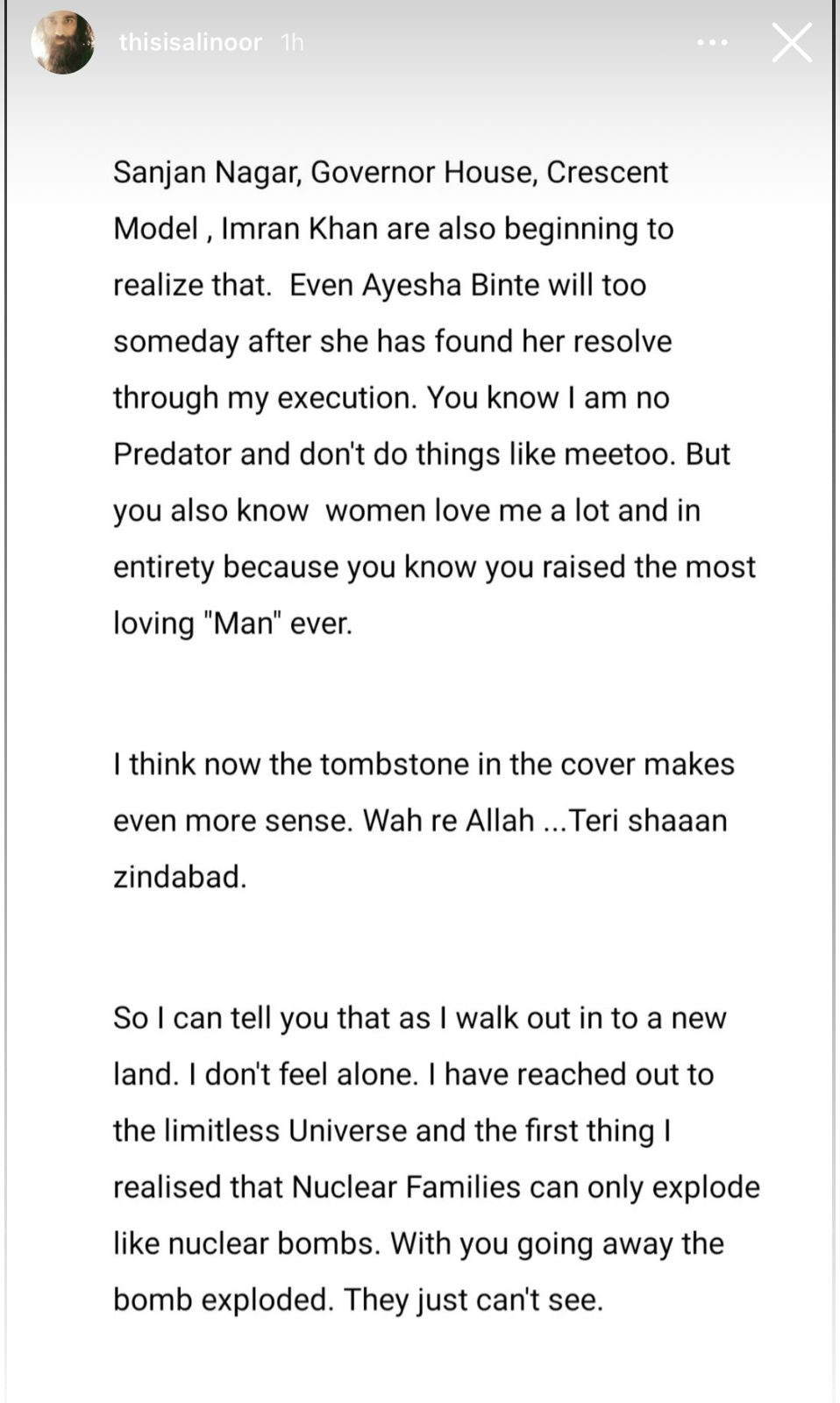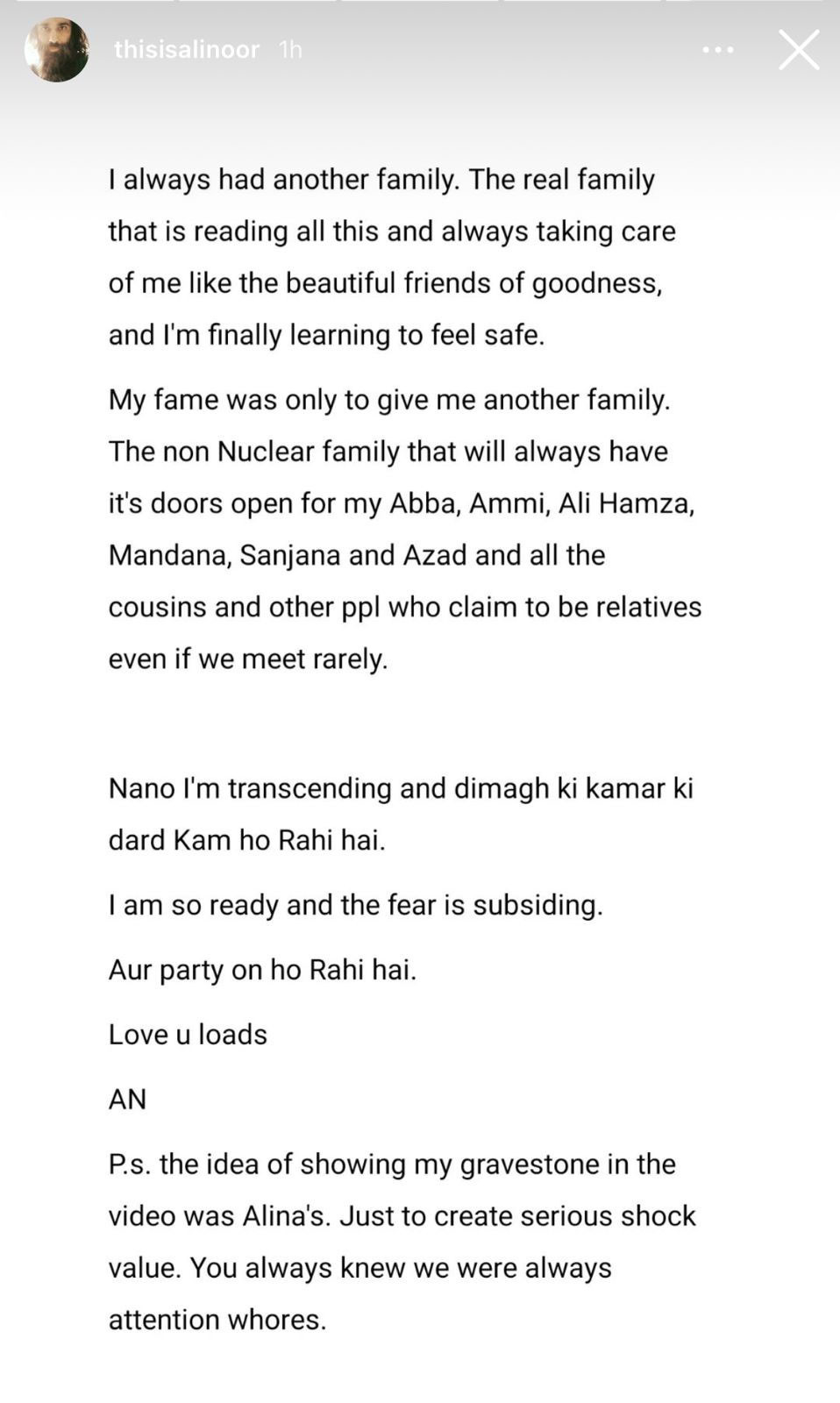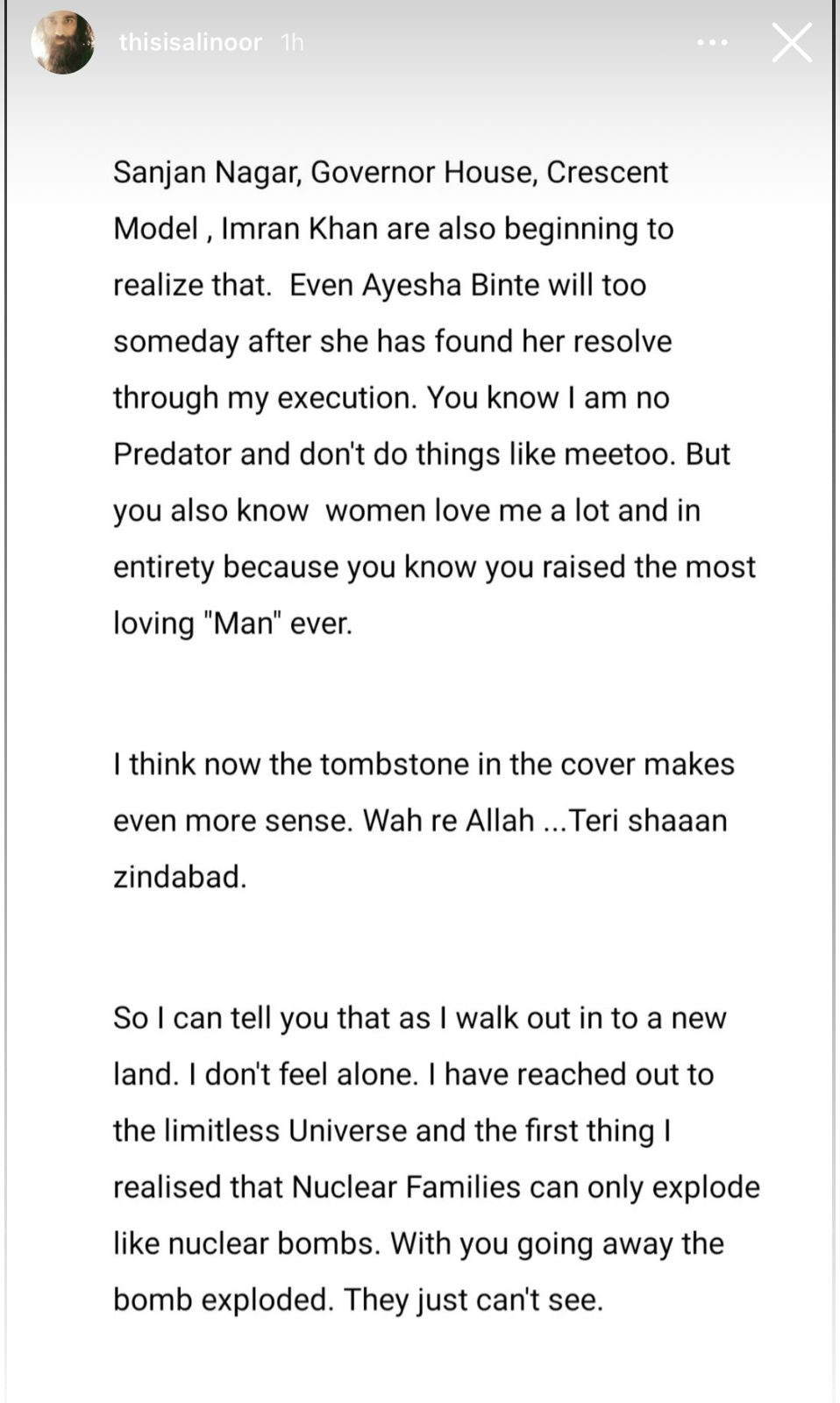 He went on to add: "Finally my boredom is going to end and I might even become more famous. But you know what I never gave a f**k about fame. For now, I want to tell you how I felt after my last letter to you. I have felt that I don't need therapists or anyone but myself to find my solace. That's why I used to say you have to BIY to DIY (Believe in Yourself to Do It Yourself). It was no Sanjan Nagar rhetoric. It is the only thing I knew. I kind of stopped for a while and then 'meray dimagh ki kamar main dard nikal ayee.' This is not new. You had it too but when you listened to other people and their fears and your own fears, then BIY just went away. You know I am no predator and don't do things like Me Too."
Source: Express Tribune