(AUSTIN, TEXAS – March 6, 2023; source: Juice Consulting) – Austin welcomes South Asian House, premiering for the first time ever at South By Southwest (SXSW) 2023. Created in partnership with The Auntie Network, Tasveer, One Minute Saree, The Partnership Inc., URL Media, IndieMeme, and Sway with Pray, South Asian House will take place at Fourth & Co located at 208 West Fourth St. Unit D in Austin, Texas during the first weekend of SXSW on Saturday, March 11 from 11 a.m. – 2 a.m. and Sunday, March 12 from 11 a.m. – 2 a.m.
Featured speakers for the initiative include industry professionals from various sectors such as business, tech, film, TV, theater, music, and fashion. South Asian house will also provide a networking brunch and happy hour each day, as well as live music entertainment and a DJ set each night. To conclude the weekend, South Asian House will host a Red Carpet Awards Ceremony, presented by Tasveer, at 5:45 p.m. and a live Oscar Viewing Party at 7 p.m. on Sunday, March 12. Media and photographers are invited to cover the red carpet event beginning at 5 p.m. and may RSVP or request general coverage of the weekend here. For more information on South Asian House, please visit here.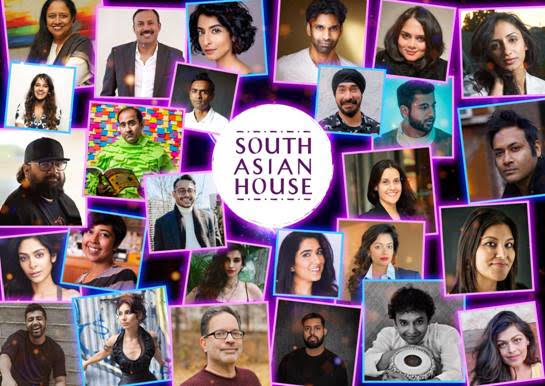 South Asian House attendees can also look forward to several partnership events with innovative companies from the region. On March 10, The Slashie Summit team with BrownGirl Magazine will co-host an event at the iconic Claypit (located at 1601 Guadalupe St, Austin, TX 78701) from 6 to 9 p.m., where Sway with Pray will be launching a Bollywood dance pop-up. The evening includes bites, drinks, a braid bar/makeup touch-ups, networking and a fireside chat with indie businesses — including haircare indie business Shaz & Kiks, matchmaking dating service Single to Shaadi, skincare company Journ, and a sustainably-driven clothing brand Tega Collective about their founder-led journeys beyond the pandemic.
Women in Film and Television, Austin will also present a Pilot reading hour. Catalyst Media/Fund, supported by Lalit Vadhlamani and Shubha Iyengar, is invested in developing and elevating future South Asian leaders; join producing partners Monika Samtani and Rohi Mirza Pandya as they dive into what it takes to develop a successful leadership mindset with industry gurus Pooja Kumar (Actress/Producer Miss India USA), Milan Chakraborty (Head of Film/Marginal MediaWorks), Sid Shah (Founder/Trackmind), Anjali Worah (Chief Transformation Officer/The Partnership, Inc.), and James A. Mathew (CEO/The Outer Voice Company).
South Asian House programming will also include two noteworthy panels on Saturday, March 11. The first, starting at 2:30 p.m., is "Creating South Asian Content for a Global Audience," which will be an hour-long discussion with actor Rizwan Manji ("Schitt's Creek," "Peacemaker"), Emmy-award winning executive producer for ViceTV, Falguni Lakhani Adams, and Emmy-award winning producer of the hit TV series "Delhi Crime," Apoorva Bakshi, moderated by DFW South Asian Film Festival Founder/Director and producer of South Asian House Jitin Hingorani. The second panel, "Investing in the Future of Our South Asian Stories," will be from 4:30 – 5:30 p.m. Panelists for this important conversation will include CEO and Co-founder of URL Media S. Mitra Kalita, actress Kausar Mohammed ("4400," "The Flash"), and CEO of Create Entertainment Atit Shah, moderated by co-founder of Box Office Guru Media Gitesh Pandya.
"We are so excited to have these fantastic panels that explore topics which are often overlooked when it comes to the contributions of South Asians in the media and entertainment worlds." states Rohi Mirza Pandya, producer of South Asian House and co-founder of Box Office Guru Media.

"It has been so exciting working with these panelists, given the vast experience they will be bringing to SXSW and what will surely be enlightening conversations," adds Kirtana Banskota, producer of South Asian House and founder of Banskota Productions.
About South Asian House:
South Asian House is an initiative that aims to connect a thriving community of thought leaders from various sectors in the business, tech, film, television, fashion, music and theater industries in seven different South Asian countries including Bangladesh, Bhutan, India, Pakistan, Maldives, Nepal and Sri Lanka. The initiative was created by veteran producers, curators, and programmers Rohi Mirza Pandya (Box Office Guru Media), Monika Samtani (Ms Media), Jitin Hingorani (Jingo Media), and Kirtana Banskota (Banskota Productions). For more information on South By Southwest's first ever South Asian House please see here.