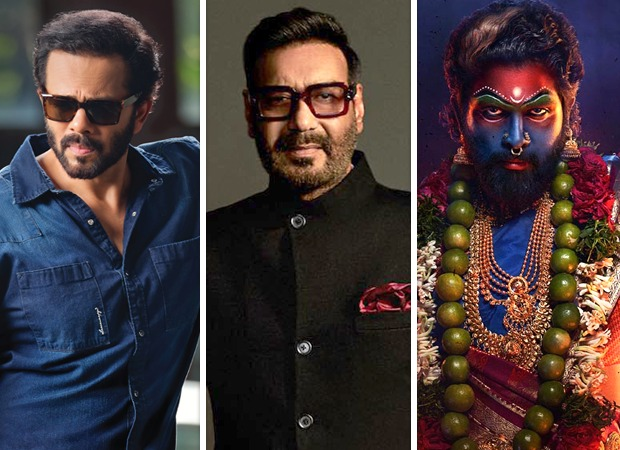 Rohit Shetty and Ajay Devgn were pleasantly surprised when they heard the release date announcement by Sukumar and Allu Arjun to bring Pushpa 2 on Independence Day. And why not, the Pushpa 2 announced an Independence Day release for their masala entertainer, a date that was blocked by Ajay Devgn and Rohit Shetty for Singham Again.
Since then, multiple discussions have taken place at Shetty's office and the meetings led to the conclusion about them delaying the release of Singham Again from the already announced Independence Day release date. "Neither Rohit Shetty nor Ajay Devgn are egoistic to stick to a date that hampers the business prospect for their own film. Of course, they were upset with the decision of Allu Arjun to arrive uninformed at a date already announced by a potential blockbuster like Singham, but then, they don't wish to go the same route as Pushpa team by going in a clash scenario," a source close to the production house informed.
The source further shared, "At times, larger good of industry is to be seen. Both Pushpa and Singham are potential blockbuster films in Hindi and them arriving on the same date makes no sense. Ajay and Rohit have collectively decided to shift ahead and let Pushpa team take the date. The actor director duo believe that Pushpa 2 needs the packaging of a holiday to arrive whereas Singham Again is such a humongous brand that it can arrive on any day without any holiday and score records. They don't want to harm the business of Pushpa and at the same time, don't want to harmed." 
According to the source, a simple phone call from Allu Arjun to Ajay Devgn would not have created any issues, as industry needs to stand by each other and bring out a solution. But that hasn't happened, but Ajay and Rohit continue to be the dignified human beings that they are in real life and don't want to indulge in the dirty games. "Singham Again as it is yet to go on floors. They would announce a date that would be announced as a national holiday by cine-goers, such is the power of their combo and the brand of Singham," the source shared and concluded saying, "Rohit Shetty firmly believes in making films that force the audience to make a holiday for themselves, and Singham will be his biggest outing."
Singham Again stars the ironman of cop universe, Ajay Devgn with Akshay Kumar and Ranveer Singh.