Das De Tu is the stunning debut track from the newly formed Break The Noise Records. Singer, songwriter and composer Jagtar is perfectly teamed with the sensational rapper Rush Toor to deliver a beautifully smooth, yet edgy ballad that will definitely pull at listeners heartstrings! With the world-renowned music maestro Rishi Rich at the controls, Das De Tu is a breath of fresh air that music lovers across the globe have been waiting for!
The recently launched Break The Noise Records is an innovative and dynamic new label created by the pioneer of the Urban-Desi movement Rishi Rich, singer-songwriter Kiranee, and Mumbai based executive producer Richard 'RDV'. The label promises to bring together an eclectic musical mix that weaves together East and West elements based on an international framework and sound. Break The Noise Records has ingeniously created an alliance with the leading digital distributor 'Believe' which has an extensive network of offices across the world including India, USA, Canada, Singapore, Russia, China, Malaysia, Italy and the UK providing artists with a truly global platform.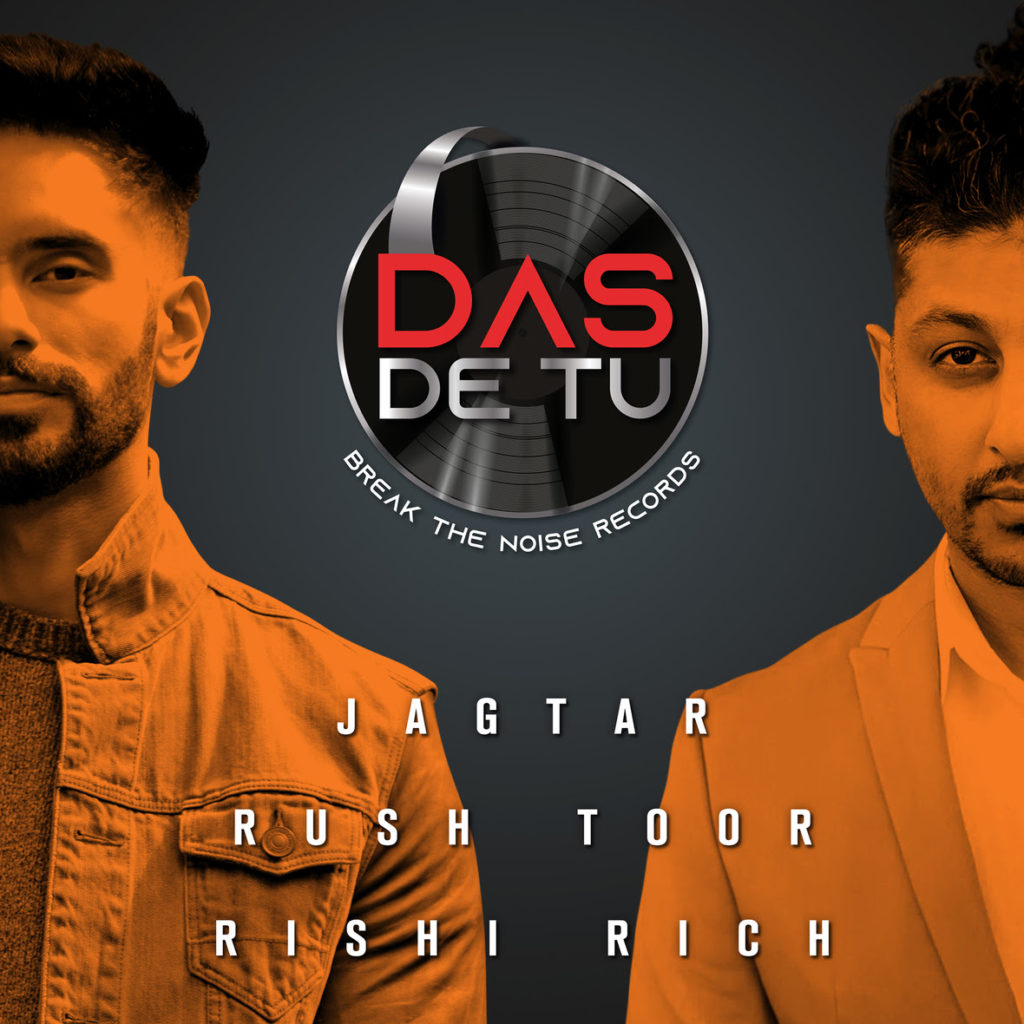 Das De Tu vocalist Jagtar grew up in Birmingham, UK, where he began his journey as an artist. With music being a major influence in his life, coupled with his passion and love for Bhangra and his culture, Jagtar always dreamt of being a Brit-Asian Pop & Soulful Sensation. His musical debut in 2015 was met with great success and since then, Jagtar has continued to develop his signature style with a number of chart-topping singles by working with the likes of PropheC, Pav Dharia and Aman Hayer to name but a few.
San Francisco based Rush Toor is a force to be reckoned with behind the microphone. His lyrical flow, energy and style have gained him a following around the globe. His influences include 2 Pac, Biggie, Wu-Tang, Kendrick, Drake, Kanye and Bone Thugs-N-Harmony. Rush aspires to go worldwide with his deep and thought-provoking lyrics and inspire others the same way others have inspired him… and he's just getting started.
One of the key aspects of Break The Noise Records is its passion for developing undiscovered and/or emerging talent along with supporting independent artists around the world. Working hand in hand with Believe Distribution; this new and inspiring collaboration is certain to deliver great music to its listeners whilst continuing to develop and mould the artists of tomorrow.
Rishi Rich shares his vision: "I have been working with a roster of exciting talents, developing them whilst making the music that I BELIEVE in. I am really excited about the partnership between our label, Break The Noise Records and Believe Distribution, a company that values and recognises the music we are creating. I would like to give a special thank you to Anurag Rao, KGV and the whole team at Believe Distribution for their continuous support"