After Uttarakhand's newly appointed Chief Minister, Tirath Singh Rawat commented on how 'ripped jeans pave the way for societal breakdown', #RippedJeansTwitter started trending on Twitter with several women, including celebs, reacting to it. While many posted pictures of themselves sporting the garment in question, others shared their thoughts on what they felt about it. One of the first celebs to react was Amitabh Bachchan's granddaughter Navya Naveli Nanda.
Taking to her Instagram stories, she shared a picture of herself sporting ripped jeans, writing, "I'll wear my ripped jeans. Thank you. And I'll wear them proudly :)", urging everyone to change their thought process before asking someone to change their clothes. Her IG story post read, "Wtf! Change your mentality before changing our clothes 🙂 because the only thing shocking here is the message comments like this send to society. Just," followed by an angry emoji.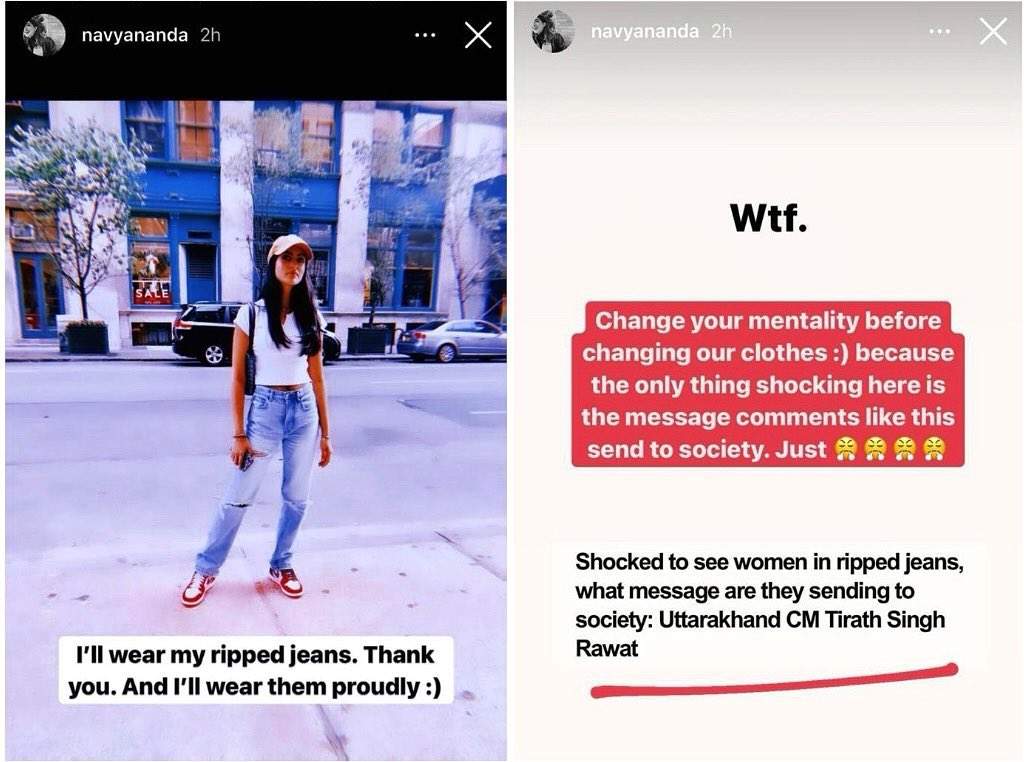 After granddaughter Navya, her actor-politician grandmother, Jaya Bachchan, too, expressed her displeasure over the CM's statement. In an ANI report, she was quoted as saying, "Those in higher posts must think and make public statements. You say such things in today's times, you will decide who's cultured and who's not based on clothes? It's bad mindset and encourages crimes against women."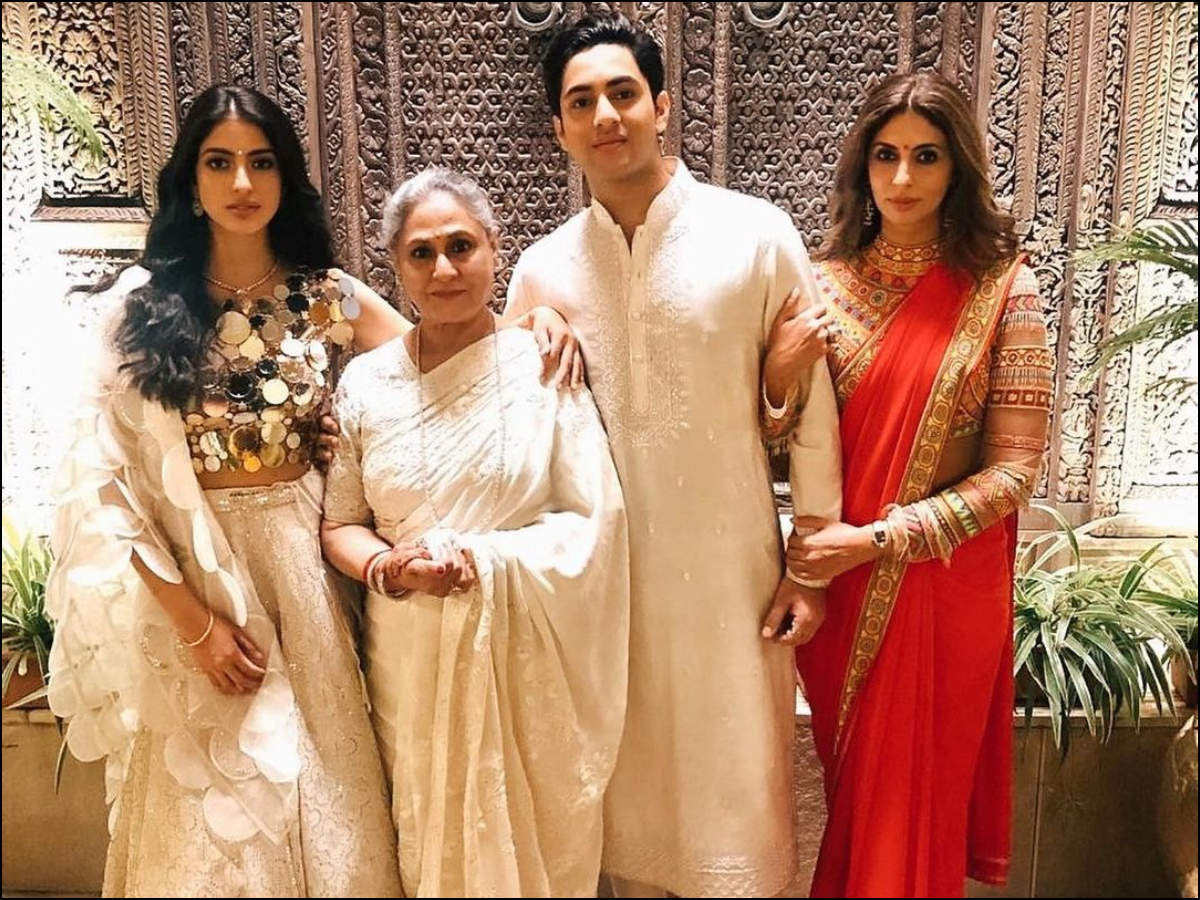 The next celeb to join the bandwagon of #RippedJeansTwitter trend was actress Gul Panag. Without alluding to the CM's statement, Gul tweeted, "*Takes out ripped jeans.**" with a picture of herself sporting a pair of ripped jeans teamed up with a bright yellow T-shirt.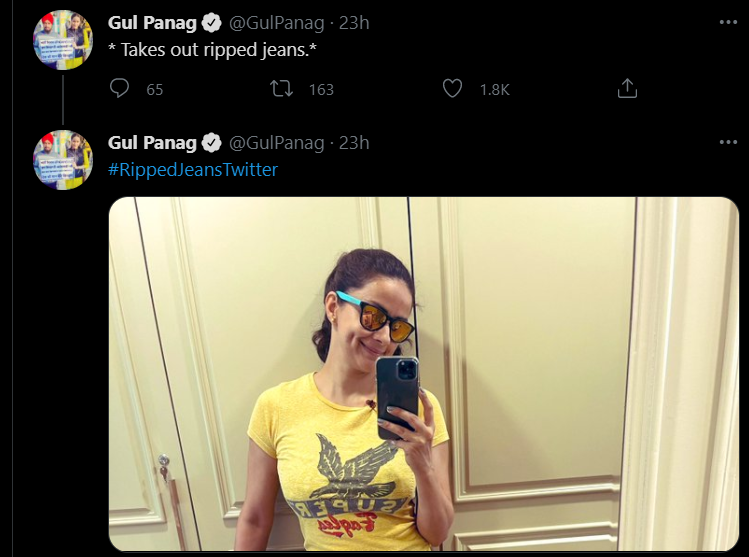 A few hours ago, actor Suchitra Krishnamoorthi, too, took to Twitter to voice her opinion on Uttarakhand CM's comment. She wrote, "Leaders cannot afford to make such irresponsible statements. His personal views have the power to influence attitudes/ policy even if unofficially. Women in his state have it hard enough already without such regressive views adding to the misery. It's wrong at so many levels #rippedjeans. There should be strict punitive action taken against #politicians who make such regressive statements about women".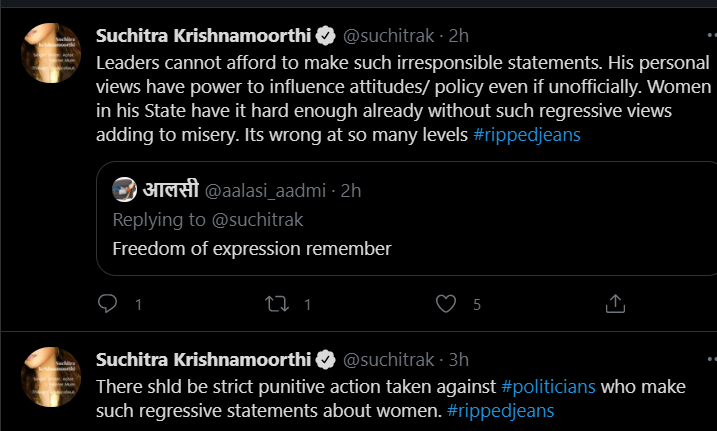 Meanwhile, 'Queen' actor Kangana Ranaut had her own take to offer. Without commenting on the CM's statement at all, she shared three pictures of herself in ripped denim, and wrote, "If you want to wear ripped jeans make sure coolness quotient is of this magnitude as in these pics, so that it looks like your style not your state a homeless beggar who hasn't got an allowance from parents this month, most young people look like that these days #RippedJeansTwitter."
If you want to wear ripped jeans make sure coolness quotient is of this magnitude as in these pics, so that it look… https://t.co/CmSiJeEzqx

— Kangana Ranaut (@KanganaTeam) 1616057978000
Bollywood's actress Urmila Matondkar Tweeted, "Manyavar … the promising youth of the country will handle the torn #jeans .. but what about the torn #economy. #RippedJeansTwitter #rippedjeans."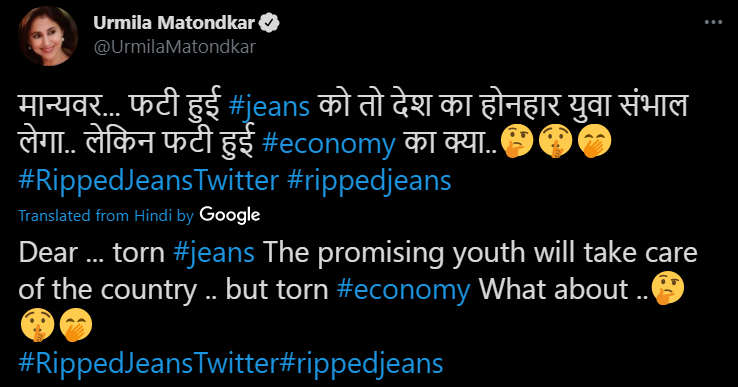 While attending a workshop, organised by the Uttarakhand State Commission for Protection of Child Rights in Dehradun. CM Rawat had said, "Showing bare knees by wearing ripped jeans just to look like rich kids is the value given now which is just a race towards westernisation when the Western world today is following us. Ripped jeans pave the way for societal breakdown and are a bad example parent set for children."