EXCLUSIVE PRE-SALE FOR AMERICAN EXPRESS® CARD MEMBERS BEGINS MONDAY, OCTOBER 24, 2022, at 10AM (ET)
EXCLUSIVE PRESALE FOR AUDIENCE REWARDS® MEMBERS BEGINS MONDAY, OCTOBER 31, 2022, at 10AM (ET)
GENERAL ON-SALE BEGINS THURSDAY, NOVEMBER 3, 2022, at 10AM (ET)
LOLITA CHAKRABARTI'S DAZZLING STAGE ADAPTATION OF YANN MARTEL'S BEST-SELLING NOVEL
DIRECTED BY MAX WEBSTER WITH
SET AND COSTUME DESIGN BY TIM HATLEY PUPPETRY AND MOVEMENT DIRECTION BY FINN CALDWELL
Terrie and Bradley Bloom Artistic Director Diane Paulus and Executive Director Kelvin Dinkins, Jr., playing at the Loeb Drama Center (64 Brattle Street, Cambridge) December 4, 2022, through January 29, 2023.
As a proud partner of LIFE OF PI, American Express® Card Members have access to exclusive pre-sale tickets before the general public beginning Monday, October 24, 2022, at 10:00AM (ET) through Monday, October 31, 2022, at 9:59AM (ET) at Telecharge.com.
Presale tickets for LIFE OF PI are available exclusively to Audience Rewards® members from Monday, October 31, 2022, at 10AM (ET) to Thursday, November 3, 2022, at 9:59AM ET.
General on-sale begins Thursday, November 3, 2022, at 10AM (ET).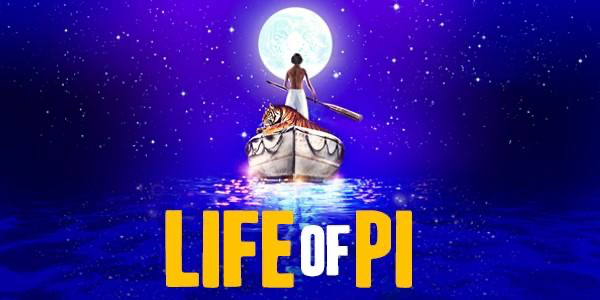 LIFE OF PI is directed by Max Webster, with Set and Costume design by Olivier Award winner Tim Hatley, Puppet and Movement Direction by Finn Caldwell, Puppet Design by Olivier Award winners Nick Barnes and Finn Caldwell, Video Design by Olivier Award winner Andrzej Goulding, Lighting Design by Olivier Award winner Tim Lutkin, Sound Design by Carolyn Downing, Original Music by Andrew T Mackay, and Dramaturgy by Jack Bradley. Broadway casting for LIFE OF PI will be announced shortly.
"Having started work seven years ago to bring Yann Martel's much-loved story to the stage, for it to live on Broadway is enormously gratifying," said Simon Friend, producer of the Olivier Award-winning Best Play, "LIFE OF PI has been so joyously received by audiences young and old in the UK, which is testament to the skill of the large team of artists delivering a show which entertains, and makes you think and feel in equal measure. We can't wait to welcome audiences on Broadway."
"It has been such a privilege to adapt Yann Martel's modern classic LIFE OF PI for the stage. It was daunting, creatively, exciting, and always collaborative. To be able to tell this story the way I imagined it, to create the world using my references and viewpoint has been an extraordinary gift. And to see it resonate with young and old audience members alike has been humbling," said playwright Lolita Chakrabarti, "It is a beautiful, visceral, magical show, a story of survival which all of us can fundamentally relate to after the effects of the pandemic. I am beyond thrilled that we will bring this play to Broadway."
Based on one of the best-loved works of fiction – winner of the Man Booker Prize, selling over fifteen million copies worldwide – LIFE OF PI is a breath-taking new theatrical adaptation of an epic journey of endurance and hope.
After a cargo ship sinks in the middle of the vast Pacific Ocean, a sixteen-year-old boy name Pi is stranded on a lifeboat with four other survivors – a hyena, a zebra, an orangutan, and a 450-pound Royal Bengal tiger. Time is against them, nature is harsh, who will survive?
Tickets for LIFE OF PI on Broadway are available at Telecharge.com (212.239.6200) and at the Gerald Schoenfeld Theatre box office and range from $49 – $199 (including $2 facility fee). The playing schedule for LIFE OF PI is as follows: Tuesday through Saturday at 8pm, with matinees Wednesday and Saturday at 2pm, and Sunday at 3pm. Please note there will be no 2pm performance on Wednesday, March 15. Beginning Tuesday, April 4, 2023, the LIFE OF PI performance schedule is as follows: Tuesday through Saturday at 8pm, Friday at 7:30pm, with matinees Wednesday and Saturday at 2pm, and Sunday at 3pm.
LIFE OF PI on Broadway is produced by Simon Friend, Daryl Roth, Hal Luftig, Mark Gordon, Playing Field, Tulchin/Bartner Productions, Gavin Kalin, Hunter Arnold, Hall Smalberg Winkler, 42nd.club, Elizabeth Armstrong, Eilene Davidson, Federman Jenen Productions, Susan Gallin, Independent Presenters Network, John Gore Organization, Kuhn Dodani, Harriet Leve, Mary Lu Roffe, Catherine Schreiber, Anthony Tang, Triple Threat
Productions, American Repertory Theatre and Sheffield Theatres, with Aaron Lustbader and Hanna Osmolska serving as Executive Producers.
LIFE OF PI is currently playing at Wyndham's Theatre in London's West End where it won five Olivier Awards including Best New Play, Best Scenic Design and Best Lighting Design. In an historic first for the Olivier Awards, the seven performers who play Royal Bengal tiger 'Richard Parker' were collectively awarded Best Actor in a Supporting Role. The London production with its cutting-edge visual effects has garnered great critical acclaim.
★★★★★ "Breathtaking. It will make you believe in the power of theater." – The Times of London ★★★★★ "An extraordinary journey. Unmissable." – The Guardian
"One of the most visually stunning shows I've ever seen." – Time Out London www.LifeOfPiBway.com

ABOUT THE ARTISTS
LOLITA CHAKRABARTI (Playwright) OBE is an actress and an award-winning playwright. Her debut play Red Velvet opened at the Tricycle Theatre, London, before transferring to St Ann's Warehouse in New York and then to London's West End as part of Sir Kenneth Branagh's inaugural season at The Garrick Theatre. It earned her the Evening Standard Charles Wintour Award for Most Promising Playwright 2012; The Critics' Circle Award for Most Promising Playwright 2013; AWA for Arts and Culture 2013 and an Olivier Award nomination for Outstanding Achievement in an Affiliate Theatre 2012, as well as many other nominations. Red Velvet is now on the Drama syllabus for A level, is studied at universities in the UK and USA and there have been over twenty professional productions in the USA and beyond, including at the Shakespeare Theatre Company in Washington in June 2022. In 2019 Lolita adapted the Booker Prize winning novel Life of Pi for the stage, (Sheffield Theatres and Wyndham's Theatre in London's West End) for which she won the award for Best New Play at the Olivier Awards 2022, UK Theatre Awards 2019, and WhatsonStage Awards 2019. Other writing credits include Hymn (Almeida Theatre/Sky Arts); an adaptation of Italo Calvino's Invisible Cities (Manchester International Festival and Brisbane Festival); Stones of Venice, a VR film for New Vision Arts Festival in Hong Kong; she curated The Greatest Wealth (The Old Vic) celebrating 8 decades of the NHS, which was also shown online during the pandemic; she was dramaturg on Message in a Bottle (ZooNation/Sadler's Wells). Lolita is dramaturg on the forthcoming Sylvia for the Old Vic. Acting credits include: Fanny and Alexander (The Old Vic); Hamlet (Royal Academy of Dramatic Art), "Vigil," "Showtrial," "The Casual Vacancy" (BBC); "Wheel of Time" (Amazon Prime); "Born to Kill" (Channel 4); "My Mad Fat Diary" (E4), "Beowulf; Return to the Shieldlands" (ITV); "Riviera" (Sky); "Criminal" (Netflix).
MAX WEBSTER (Director) is an Associate Director at The Donmar Warehouse. As Director, credits include: Henry V (Donmar Warehouse); Antigone and As You Like It (Regent's Park Open Air Theatre); Dr. Seuss' The Lorax (Old Vic Theatre/San Diego Old Globe/Minneapolis Children's Theatre); The Jungle Book (Fiery Angel); Fanny and Alexander, Cover My Tracks (Old Vic Theatre); The Twits (Curve Theatre Leicester); The Winter's Tale (The Royal Lyceum Theatre Edinburgh); The Sea of Fertility and Mary Stuart (Parco Productions Tokyo); Much Ado About Nothing (Shakespeare's Globe); Shostakovich's Hamlet (City of London Sinfonia); Twelfth Night (Regent's Park Open Air); Orlando, To Kill a Mockingbird, My Young and Foolish Heart (Royal Exchange Manchester); James and the Giant Peach, My Generation (Leeds Playhouse); Carnival Under the Rainbow and Feast Kakulu (Hilton Festival, South Africa) & Caucasian Chalk Circle (Aarohan Theatre, Kathmandu). Opera credits include: La Bohème (Göteborgsoperan, Sweden) & The Merry Widow (English National Opera).
TIM HATLEY (Scenic & Costume Design). Double nominations at the 2012 Olivier Awards – Best Set Design for Back to the Future and Life of Pi (Winner). Tim has designed extensively for The National Theatre, West End and Broadway, and is the winner of 2 Tony Awards, 3 Olivier Awards, & 4 Drama Desk Awards, including the 2012 Olivier Award for Best Set Design for Life of Pi. Recent theatre credits include: Life of Pi (West End); Back to the Future (West End & UK Tour); Dreamgirls (West End & UK Tour); Travesties (Menier/West End/ Broadway); Ghosts (Almeida Theatre/West End/Brooklyn Academy of Music); Little Eyolf (Almeida Theatre); Temple (Donmar Warehouse); Enemy of the People, Pajama Game (Chichester Festival Theatre); The Slaves of Solitude & Drawing The Line (Hampstead Theatre); Mr. Foote's Other Leg (Hampstead Theatre/West End), The Bodyguard (West End/International Tours); Shrek (West End/ Broadway/UK Tour/US Tour); Spamalot (West End/ Broadway/ US Tour/Las Vegas); Singin' in the Rain, My Fair Lady (Chatelet Paris) and Carmen & Don Quixote (The Royal Ballet). Film credits include Production Design for: Closer, Notes on a Scandal and Stage Beauty.
FINN CALDWELL (Puppet Design, Puppetry and Movement Director) is a director, designer and performer; he is co-artistic director of Gyre & Gimble, a theater company specializing in puppetry, where his Co-Director/Puppet Designer credits include The Four Seasons: A Reimagining (Shakespeare's Globe, Sam Wanamaker Playhouse); The Hartlepool Monkey (UK Tour), and The Elephantom (National Theatre/West End). As Puppet Co-Designer/Director, credits include The Grinning Man (Bristol Old Vic/West End) and Running Wild (Chichester Festival Theatre/Regent's Park Open Air Theatre/UK Tour). As Director of Puppetry and Movement, credits include The Ocean at the end of the Lane (National Theatre/West End), Angels in America (National Theatre/Broadway); The Light Princess (National Theatre); and War Horse (National Theatre/West End/International Tour).
NICK BARNES (Puppet Design) began making puppets whilst studying drama at Hull University and theatre design at the Slade School of Fine Art and soon after began incorporating puppets into his theatre designs for opera and theatre. For many years, he was joint artistic director of the puppetry company Blind Summit Theatre, which he co-founded. In 2012 he co-directed the puppetry in Danny Boyle's spectacular opening ceremony for the London Olympic Games. As Puppetry Designer for Blind Summit, theatre credits include: Madame Butterfly (English National Opera/Metropolitan Opera for which he also performed in London and New York); A Dog's Heart (English National Opera/Dutch National Opera); Shunkin and Master and Margarita (Complicite); El Gato Con Botas (Tectonic Theatre); On Emotion (Soho Theatre); Faeries (Royal Opera House) and His Dark Materials (Birmingham Repertory Theatre/ Leeds Playhouse). As Nick Barnes Puppets, credits include: Doctor Dolittle (Music & Lyrics Productions); The Lorax (Old Vic Theatre); Ariodante (Festival d'Aix-en-Provence/Dutch National Opera); Angels wings, Angels in America (National Theatre/Broadway); Running Wild (Associate Designer/Chichester Festival Theatre/Regents Park); David Walliams' The First Hippo on the Moon (Les Enfants Terribles/UK Tour); Mr Popper's Penguin's (Kenny Wax Ltd/West End/Broadway); The Little Beasts (The Other Palace); The Jungle Book (Royal & Derngate); Beauty and the Beast and The Butterfly Lion (Chichester Festival Theatre); The Little Prince (Fuel Theatre); Al Adiyat (Dubai Expo 21, AIM) and Macbeth (Red Rose Chain). Nick has also designed large scale Firebird and Gnomus puppets for the BBC Proms at the Royal Albert Hall and created the Ironman costume for Disneyland Paris' Summer of Superheroes show. You can follow Nicks work at www.nickbarnespuppets.co.uk
ANDRZEJ GOULDING (Video Design). Video Designer and Animator Andrzej studied Theatre Design at Central Saint Martins in London. Theatre includes: Eureka Day (Old Vic); The Time Traveller's Wife (Chester Storyhouse); The Unfriend (West End); Burn (Joyce Theatre, NTS); Henry V (Donmar Warehouse, NT Live); Life of Pi (West End, Boston); The Da Vinci Code (UK tour); & Juliet (West End, Toronto, Broadway); The Drifters Girl (West End); People, Places and Things (National Theatre/West End/St Ann's Warehouse); Groundhog Day (Old Vic/Broadway); Room (Stratford East/Princess Of Wales Theatre); The Unfriend, The Boy in the Striped Pyjamas, 8 Hotels, Pressure (Chichester Festival Theatre); Coriolanus (Donmar Warehouse, NT Live); Message in a Bottle (Sadler's Wells); The Unreturning – also set design (Frantic Assembly); The Girl on the Train (UK tour); 1984 (Sadler's Wells); Constellations – also set design (NCPA Theatre); The Machine (The Armoury); Kiki's Delivery Service (Southwark Playhouse). Awards and Nominations include: Olivier Award winner for Best Lighting Design 2022, UK Theatre Award winner for Design 2019, Broadway World Award winner for Best Video Design 2019, Knights of Illumination Nomination for Video Design 2019 (Life Of Pi); WhatsOnStage Award winner for Best Video Design 2020 (&Juliet); Off West End Award 2019 nomination for Video Design and Broadway World Award 2019 nomination for Set Design (The Unreturning); Drama Desk Award nomination 2018 for Outstanding Projection Design and Knights of Illumination USA Award nomination for Projection Design 2018 (People, Places and Things); in 2017 he won the inaugural Theatre and Technology Award for Creative Innovation in Video Design (Room) and was nominated for a WhatsOnStage Award for Video Design (Groundhog Day). www.agoulding.com
TIM LUTKIN (Lighting Design) trained at the Guildhall School of Music and Drama.
Credits include: Jack Absolute Flies Again, Under Milk Wood, Back To The Future (Olivier nomination and Whatsonstage Award), Fiddler On The Roof, Chimerica, Elf, Quiz, Impossible, The Girls, The Go-Between, Close To You – Bacharach Reimagined, Strangers On A Train, The Full Monty, Ralph Finnes – Four Quartets (West End); Timon of Athens, The Rover, Candide, All's Well That Ends Well (Royal Shakespeare Company); The Crucible, Anthony & Cleopatra, Salome, Le Bancs (Olivier Theatre/National Theatre); Mickey and the Magician, Marvel Superheros United, The Art Of Animation, Disney Junior Dream Factory (Walt Disney Imagineering); Twelfth Night (Young Vic); Lungs, The Crucible, Present Laughter (Old Vic); Philadelphia Here I Come!, Knives In Hens (Donmar Warehouse); David Blaine Real Or Magic (National Tour); Destiny Spectacular (MGM Theatre Macau); Dynamo Live: Seeing Is Believing (Hammersmith Apollo/World Arena Tour); Single Spies, The Winslow Boy (Chichester Festival Theatre/National Tours); Dynamo: The Power of X (Copper Box Arena). Tim Lutkin has received two Olivier Awards for Best Lighting Design for Chimerica and Life of Pi.
CAROLYN DOWNING (Sound Design) is an award-winning sound designer working in theatre and across a variety of media, both nationally and internationally. Her work in theatre and live events includes Commonwealth Games Birmingham 2022 Opening Ceremony, Henry V, BLANK, Les Liaisons Dangereuses (also on Broadway), Fathers and Sons, Dimetos and Absurdia (Donmar); Fantastically Great Women Who Changed The World (Kenny Wax); Normal Heart, The Welkin, Downstate (also at Steppenwolf Chicago and Playwrights Horizons NYC), Mr Gum and the Dancing Bear – the Musical!, As You Like It, Our Country's Good, The Motherf*cker with the Hat, Dara (NT); All My Sons (Old Vic); Death Of A Salesman (Young Vic and West End); Summer & Smoke (Almeida and West End, Olivier Nomination 2019), Chimerica (Almeida and West End, Olivier Award Best Sound Design 2014), Carmen Disruption and Blood Wedding (Almeida); Gypsy, Mother Courage, The Producers (Royal Exchange); The Fantastic Follies of Mrs Rich, Coriolanus, Julius Caesar, Antony and Cleopatra and King John (RSC); Handbagged, White Teeth (Kiln); Me And My Girl, Copenhagen and Fiddler on the Roof (Chichester); A Woman of No Importance (Vaudeville & UK Tour); The Believers, Beautiful Burnout and Love Song (Frantic Assembly); Hope, The Pass, The Low Road and Choir Boy (Royal Court); All My Sons (Broadway). Designs for opera include Benjamin, Dernière Nuit at Opéra de Lyon, How the Whale Became at the Royal Opera House, American Lulu for Opera Group and After Dido for the ENO. Exhibitions include Jean Michael Basquiat: King Of Pleasure presented by his family in NYC, Reimagining Wordsworth for the Wordsworth Trust; Hut 11A: The Bombe Breakthrough at Bletchley Park; So You Say You Want A Revolution? Records & Rebels 1965– 70 at the V&A; Exhibitionism: The Rolling Stones at Saatchi Gallery; Collider at the Science Museum; and Louis Vuitton: Series 3. Carolyn has also created soundscapes for Shawn Mendes' Illuminate tour 2017 and Louis Vuitton Ready to Wear Collection shows at the Louis Vuitton Foundation and The Louvre, Paris.
ANDREW T MACKAY (Original Music) is an Olivier Award nominated and award-winning classically trained composer & producer and the co-founder with Garry Hughes of the electronica/world music act Bombay Dub Orchestra. Andrew studied piano, clarinet, and composition at the London College of Music under Dr Lloyd Webber and John McCabe. His music often fuses orchestral with folk and traditional elements of music from the project's region and has scored many films in India including the National award-winning Hamid by Aijaz Khan. Andrew's company Bohemia Junction Ltd exclusively represents Abbey Road Studios for India as well as the FAMES' Skopje Studio Orchestra and has provided music services on dozens of films, concerts, and Games over the last decade. He is the Director of India's first ever Composers Lab which started in 2013 as part of Mumbai Film Festival in association with Abbey Road, PRS for Music UK and supported by BMI. The Oliver Award Nominated music soundtrack to Life of Pi was Andrew's first foray into scoring for theatre which was followed by Henry V with Kit Harington (Donmar) in 2022 and Butter Arms a short film for Royal Ballet/ Royal Opera House. The soundtrack album to Life of Pi is available on all streaming platforms as well as on CD on the Bohemia Junction Recording Co. label. www.mackay.at
JACK BRADLEY (Dramaturgy) is a Literary producer, dramaturg, playwright, and translator. Previously Bradley was Literary Associate at SFP, and Literary Manager at London's National Theatre from 1994-2006 advising on the repertoire for Richard Eyre, Trevor Nunn and Nicholas Hytner. From 1989-1994 he worked in new play development at the Soho Theatre.
YANN MARTEL (Novelist) is a Canadian writer. He is the author of a collection of short stories and four novels, most notably Life of Pi, for which he won the 2002 Man Booker Prize. Additional writing credits include The Facts Behind the Helsinki Roccamatios, Self, Beatrice and Virgil, The High Mountains of Portugal and the non-fiction collection 101 Letters to a Prime Minister: The Completed Letters to Stephen Harper. Martel is presently at work on Son of Nobody, a novel about the Trojan War.