Along with bringing in a lot of moolah, Siddharth Anand's Shah Rukh Khan starrer Pathaan also brought back the cheers inside the cinema halls. One of the biggest massy moments from the film is Salman Khan's cameo as Tiger who comes to rescue Pathaan.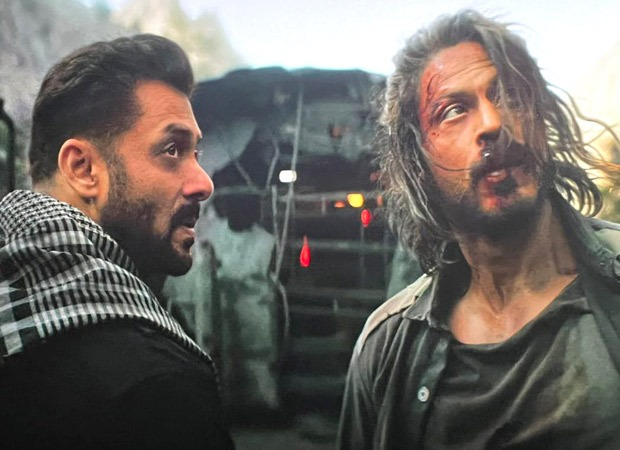 Apart from the action, what set the scene apart was the witty conversation between the two stars. Pathaan's dialogue writer Abbas Tyrewala reveals the process of writing the lines for that scene.
Tyrewala said that they had to play carefully during that scene. "You know when Shah Rukh and Salman are going to be on screen together as Pathaan and Tiger, it's a double-edged sword," he said. "On the one hand, the opportunities to entertain the audience suddenly become so much more. On the other hand, you also have to be very, very careful about how you play it so that the people don't get so caught up with Shah Rukh and Salman that they forget Pathaan and Tiger. That balance needs to be there."
Tyrewala explained that they needed to remember that Pathaan is SRK's film. "So just because Tiger is making an entry, you can't give that whole scene away to Salman and make Shah Rukh less," he said. "But at the same time, Salman is making a special entry in Shah Rukh's film. So, no way that you can make Salman not be an event. That has to be something that gives the thrill to the audience. So how do you balance it where Pathaan's film stays Pathaan's film but Tiger's moment becomes Tiger's moment and both get to shine?"
The balancing resulted in various drafts of that particular scene. "That scene was written and re-written a number of times," revealed Tyrewala. "But fortunately, Adi knows them so well and Siddharth is the child of the industry and he has got years of friendship. They both come with their own ideas and contributions. So luckily no single person had to take the pressure of doing that. Lots of contributions came in. Everyone had some great ideas. That scene more than any other was written and made in a very collaborative spirit. No one person can say that I thought of everything."
Produced by Aditya Chopra for Yash Raj Films, Pathaan is a spy action film that also stars John Abraham, Deepika Padukone, Dimple Kapadia and Ashutosh Rana.