(New York, NY) Lolita Chakrabarti's dazzling stage adaptation of Yann Martel's best-selling novel LIFE OF PI is Broadway's most spectacular Theatrical experience. The three-time Tony Award-winning Play opened to critical acclaim on Thursday, March 30th at Broadway's Gerald Schoenfeld Theatre (236 West 45th Street).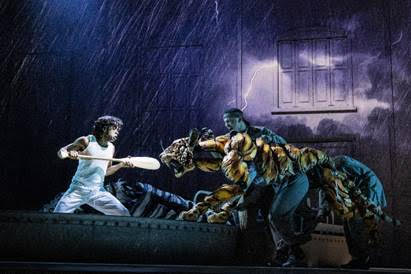 LIFE OF PI won three Tony Awards for Best Lighting Design of a Play, Best Scenic Design of a Play and Best Sound Design of a Play, four Drama Desk Awards for Outstanding Direction of a Play (Max Webster), Outstanding Scenic Design of a Play (Tim Hatley), Outstanding Projection and Video Design (Andrzej Goulding) and Outstanding Puppetry (Nick Barnes and Finn Caldwell) and two Outer Critics Circle Awards for Outstanding Lighting Design of a Play or Musical (Tim Lutkin) and Outstanding Video or Projection Design of a Play or Musical (Andrzej Goulding).  Hiran Abeysekera has won the Theatre World Award and Broadway.com's Audience Choice Award (Favorite Male Breakthrough Performance) for his portrayal of Pi. 
LIFE OF PI is the first Broadway play with a majority South Asian cast/creative team to win 3 Tony Awards.
The five-time Olivier Award-winning play LIFE OF PI is now playing at Broadway's Gerald Schoenfeld Theatre (236 West 45th Street) with three Olivier Award-winning performers making their Broadway debuts. Recreating their critically acclaimed performances for Broadway are "Best Actor"winner Hiran Abeysekera in the role of "Pi" and "Best Supporting Actor" winners Fred Davis and Scarlet Wilderink have joined the "Richard Parker" puppeteering team. The Broadway production of LIFE OF PI also features Brian Thomas Abraham as Cook/Voice of "Richard Parker," Rajesh Bose as Father, Avery Glymph as Father Martin/Russian Sailor/Admiral Jackson, Mahira Kakkar as Nurse/Amma/Orange Juice, Kirstin Louie as Lulu Chen, Salma Qarnain as Mrs. Biology Kumar/Zaida Khan, Sathya Sridharan as Mamaji/Pandit-Ji, Daisuke Tsuji as Mr. Okamoto/Captain, Sonya Venugopal as Rani, with Nikki Calonge, Fred Davis, Rowan Ian Seamus Magee, Jonathan David Martin, Betsy Rosen, Celia Mei Rubin, Scarlet Wilderink and Andrew Wilson as Royal Bengal tiger "Richard Parker." Mahnaz Damania, Jon Hoche, Usman Ali Mughal, Uma Paranjpe and David Shih round out the 24-member cast with Adi Dixit as the "Pi" alternate.
LIFE OF PI is directed by Max Webster, with Set and Costume design by Olivier Award winner Tim Hatley, Puppetry and Movement Direction by Olivier Award winner Finn Caldwell, Puppet Design by Olivier Award winners Nick Barnes and Finn Caldwell, Video Design by Olivier Award winner Andrzej Goulding, Lighting Design by Olivier Award winner Tim Lutkin, Sound Design by Carolyn Downing, Original Music by Andrew T Mackay, Dramaturgy by Jack Bradley, Wig Design by David Brian Brown, and Casting by Stewart/Whitley.
The Olivier Award-winning West End hit LIFE OF PI is an epic tale of adventure that is "giving new life to Broadway" (The Today Show). After a shipwreck in the middle of the Pacific Ocean, a sixteen-year-old boy named Pi survives on a lifeboat with four companions— a hyena, a zebra, an orangutan, and a Royal Bengal tiger. This remarkable story of hope, faith, and perseverance speaks to every generation. Told through incomparable puppetry and exquisite stagecraft, LIFE OF PI creates a visually breathtaking journey that will leave you filled with awe and joy.Get your tickets now to this thrilling new production that "will make you believe in the power of theater" (The Times of London).
Tickets for LIFE OF PI on Broadway are available at Telecharge.com (212.239.6200) and at the Gerald Schoenfeld Theatre box office and range from $49 – $199 (including $2 facility fee). The playing schedule for LIFE OF PI is as follows: Tuesday and Thursday at 7pm, Wednesday and Friday at 7:30pm, and Saturday at 8pm, with matinees Wednesday and Saturday at 2pm, and Sunday at 3pm. Adi Dixit will play the role of "Pi" on Tuesday evenings.
You can enter the LIFE OF PI digital lottery the day before the performance at rush.telecharge.com. The digital lottery opens at 12am (ET) at rush.telecharge.com one day before the performance with winners announced that same morning at 10am (ET), with a second announcement of additional winners that afternoon at 3pm (ET). Winners may buy up to two tickets at $45 each (inclusive of $5 service fee), subject to availability.
A limited number of in-person LIFE OF PI rush tickets will be available on the day of each performance for $40 per ticket when the Schoenfeld Theatre box office opens. Maximum of two tickets per person, subject to availability. The box office opens Tuesday through Saturday at 10am (ET) and Sunday at 12pm (ET).
LIFE OF PI on Broadway is produced by Simon Friend, Daryl Roth, Hal Luftig, Mark Gordon Pictures, Playing Field, Tulchin Bartner Productions, Gavin Kalin, Hunter Arnold, Hall Smalberg Winkler, 42nd.club, Elizabeth Armstrong, Eilene Davidson, deRoy Shea Waxman, Federman Jenen Productions, Susan Gallin, Independent Presenters Network, John Gore Organization, Kuhn Dodani, Harriet Newman Leve, Anastasia Muravyeva, Mary Lu Roffe, Catherine Schreiber, American Repertory Theatre and Sheffield Theatres, with Aaron Lustbader and Hanna Osmolska serving as Executive Producers.
The Broadway production of LIFE OF PI is proud to partner with World Wildlife Fund (WWF). "Much like Richard Parker, wild tigers face considerable obstacles to survival," said Ginette Hemley, Vice President of Wildlife Conservation at World Wildlife Fund. "They have lost an estimated 95% of their habitat range due to development and deforestation. Through our partnership with LIFE OF PI on Broadway, we hope to educate new audiences and inspire them to take action in support of this charismatic species. Together, we can secure a stable future for tigers."
LIFE OF PI played Wyndham's Theatre in London's West End where it won five Olivier Awards including Best New Play, Best Scenic Design and Best Lighting Design. In an historic first for the Olivier Awards, the seven performers who play Royal Bengal tiger "Richard Parker" were collectively awarded "Best Actor in a Supporting Role." The London production with its cutting-edge visual effects has garnered great critical acclaim and will launch a UK & Ireland tour in the summer of 2023. Prior to the Broadway engagement, LIFE OF PI made its North American Premiere at the American Repertory Theater at Harvard University.
WHAT THE CRITICS HAD TO SAY ABOUT LIFE OF PI:
"OH, IS IT A WONDER! Delightful and beautiful, with DAZZLING IMAGINATION, LIFE OF PI conjures a delirious, dynamic world that is a tribute to human ingenuity and animal grace, while acknowledging what is human within the animal and animal within the human. Taken from Yann Martel's novel of magical realism, this production delivers the magic and the realism both. The animals prowl and canter and leap with ASTONISHING CHARACTER AND STYLE, while the tiger Richard Parker is the show's striped jewel, at once beguiling, gentlemanly and quite dangerous. A person might have to clap her hands across her mouth to stop herself from oohing. THAT ROARING YOU HEAR AT THE SHOW'S END? IT'S THE SOUND OF A STANDING OVATION." – Alexis Soloski, The New York Times
"GLORIOUS! A DAZZLING MARVEL OF STAGECRAFT. THIS POWERFUL PRODUCTION SPARKS TO STUNNING LIFE." – Lauren Morgan, Entertainment Weekly
"SPECTACULAR AND SPELLBINDING! Starring the astounding Hiran Abeysekera, LIFE OF PI brings a star-bedazzled night sky, an ocean roiled by a storm, and seas becalmed and teeming with glowing aquatic life to Broadway." – Charles Isherwood, Wall Street Journal
"Life of Pi creates moment after moment of theatrical magic and thrills us with sheer emotion and awe." – Johnny Oleksinski, New York Post
"A FEAST FOR THE EYES!" – Peter Marks, Washington Post
"The single greatest innovation in puppetry ever to hit the global stage." – Chris Jones, NY Daily News
"BREATHTAKING! A brilliantly staged dramedy that constantly blurs the lines between fact and fiction." – Brittani Samuel, Broadway News